Boca Raton, FL – NCCI recently released the the Medical Indicators & Trends Dashboard—Q3 2021 Edition as part of its ongoing strategy to deliver more medical data insight for analysis.
The dashboard provides an interactive way to visualize medical services provided before and after the spread of the pandemic with early reporting of 2021 data for 39 jurisdictions and allows you to download various summary tables. It also provides an accounting of Q1 through Q3 2021 COVID-19 treated claims. More detailed state-specific Medical Data Reports, which are available to affiliates and regulators, can be found in State Insight, which is available to affiliates and regulators.
The dashboard also provides summarized statistics for several key metrics we have been following to better understand the direct and indirect impacts of COVID-19. These include impacts to physician services, time to treatment, telemedicine, prescription drugs, hospital outpatient and ambulatory surgical center visits, COVID-19 treated claim characteristics, and the newly added active claim volume tab.
The data source used in this dashboard is NCCI's Medical Data Call. The Medical Data Call represents data from most of the workers compensation premium written, which includes experience for large-deductible policies. Lump-sum settlements are not required to be reported. Also, self-insured data is generally not included.
This dashboard allows users to analyze state-specific medical treatment results since the spread of the pandemic, as well as services provided through the third quarter of 2021 as reported through December 2021.
View the dashboard: NCCI: Medical Indicators & Trends Dashboard—Q3 2021 Edition
Check out NCCI's industry webinar for a demo of the Medical Indicators & Trends dashboard: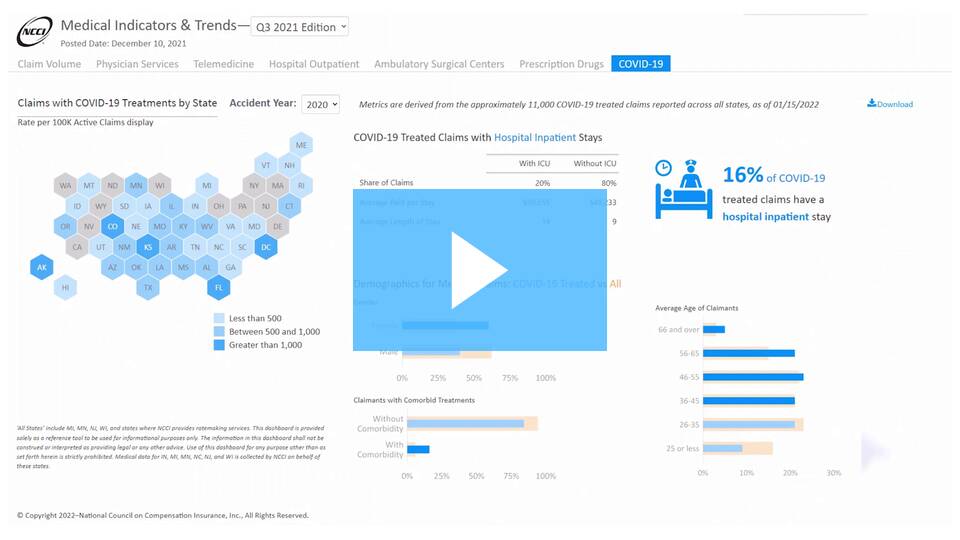 Medical Indicators and Trends Dashboard – Update
The Medical Indicators & Trends dashboard is best viewed in Chrome via a desktop browser.
This dashboard is provided solely as a reference tool to be used for informational purposes only. The information in this dashboard shall not be construed or interpreted as providing legal or any other advice. Use of this article for any purpose other than as set forth herein is strictly prohibited.
Source: NCCI