Oakland, CA – The monthly count of COVID-19 job injury claims reported to the California Division of Workers' Compensation (DWC) soared to a record 32,549 cases in December, bringing the total number of COVID-19 claims for accident year (AY) 2020 to 103,712, or more than one out of every six workers' comp claims with a 2020 injury date according to a new analysis by the California Workers' Compensation Institute (CWCI). With additional year-end claims continuing to be filed, CWCI projects that the ultimate COVID-19 claim count for December will be 43,290 claims, while the projected count for all of AY 2020 is 117,989 COVID-19 claims.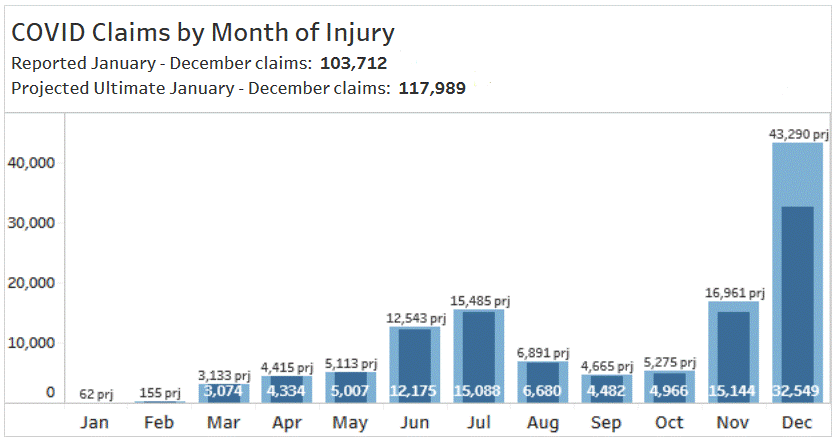 The latest figures, based on claims reported to the DWC as of January 25, show that more than half (50.8%) of all workers' compensation claims in California last month were for COVID-19, up sharply from 29.3% in November, which was the previous high-water mark for the year. The year-end surge in COVID-19 job injury claims coincided with the post-holiday wave of coronavirus cases that hit the state. Even though additional claims continue to be filed, the huge increases in COVID-19 cases already recorded for November and December have driven overall workers' comp claim volume for the fourth quarter of AY 2020 to 166,587 claims, which is 3.2% more than the 161,478 claims recorded for the fourth quarter of AY 2019 – the first time that AY 2020 quarterly claim volume exceeded the year-earlier figure.
The distribution by industry shows the health care sector and public safety/government workers continue to account for more COVID-19 claims than other sectors, though their share of the COVID-19 claims showed little change over the last three months of the year, while retail workers' share of the claims jumped from 8.7% in October to 13.1% in December. The geographic distribution of the COVID-19 claims also shifted in the last quarter of 2020, as the Inland Empire/Orange County saw its share climb from 24.5% in October to 28.8% in December, while over the same 3-month span Los Angeles County's share increased from 24.2% to 30.1%. In contrast, the Central Valley dropped from 18.9% of the COVID-19 claims in October to 15.7% in December, while at the same time, the Bay Area's share dropped from 17.1% to 12.2%. The new data also shows denial rates for COVID-19 claims rose from 33.1% in September to a 7-month high of 37.9% in October, just prior to the year-end surge, though denial data for November and December claims is still too undeveloped for comparison as many of those claims remain under investigation.
The data on AY 2020 claims is included in the latest update to CWCI's COVID-19/Non-COVID-19 Interactive Claim App, an online tool that integrates data from CWCI, the DWC, and the Bureau of Labor and Statistics to provide detailed information on California workers' comp claims from comparable periods of 2019 and 2020. The latest version contains data on more than 1.3 million claims from AY 2019 and AY 2020, including the 103,712 COVID-19 claims reported thus far for AY 2020. CWCI updates its COVID-19/Non-COVID 19 data app with new data every two weeks, so the next version will include data based on claims reported to the DWC as of February 8.
The application is available to the public here: CWCI: COVID-19 & Non-COVID Interactive App
Source: CWCI