Boca Raton, FL – Medical costs are currently about 60% of all workers compensation benefit costs in the United States. Medical costs in the system had a watershed year in 2015. For the first time in more than 20 years, the average severity of medical claims for employees who were out of work due to injury or illness declined, after years of steady increases in severity.
To examine the factors driving this decline, NCCI released a research brief, "Investigating the Drivers of the 2015 Workers Compensation Medical Severity Decline." The brief is based on NCCI's compilation and analysis of lost-time medical claims severity data from 38 states. ("Lost-time medical claims severity" refers to the average amount of money paid per claim in workers compensation cases in which injured or ill workers lost time from the job.)
Key highlights from the report:
What did medical severity trends look like prior to 2015?
In the 20-year period from 1995 to 2014, lost-time medical claims severity in workers compensation cases steadily increased, outpacing medical price inflation. Between 1995 and 2002, average annual growth in claims severity was 9%. Between 2002 and 2009, the annual growth rate in claims severity was 6%.
What happened in 2015?
Reversing a two-decade trend, NCCI determined that the average paid medical costs per workers compensation claim declined by about 1% in 2015. A decrease in medical severity was observed in about half of the 38 states that NCCI surveyed and occurred despite the fact that the mix of diagnosed injuries in the workers compensation system remained relatively stable between 2012 and 2015.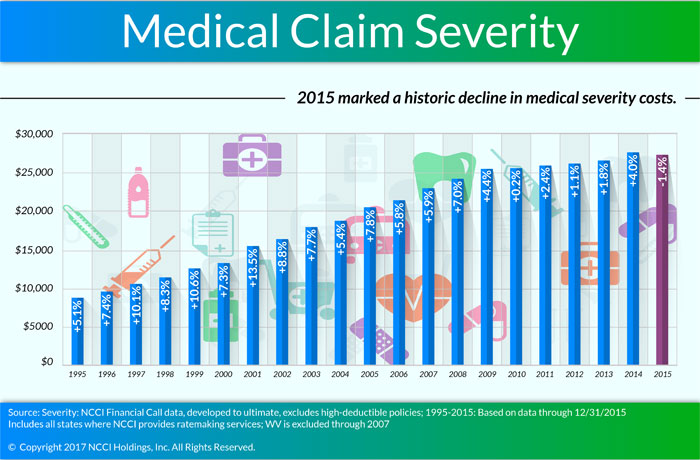 What key factors led to the decline of medical severity costs in 2015?
Physician and hospital services account for more than 80% of medical costs in workers compensation cases in an average year, so any cost changes involving those two provider categories can have a significant impact on overall medical costs. NCCI's analysis found that two key factors relating to physician costs were primarily responsible for the 1% overall decline in medical severity:
Paid physician costs per claim decreased about 3% during the year, even though physician prices had remained relatively stable
The decline in physician costs was directly related to a corresponding 3% decline in physician utilization per claim, which includes such factors as the number of physician office visits per claim and the number of physician services provided during each visit
What about costs for hospitals and other medical services?
NCCI's analysis found that paid hospital costs per workers compensation claim increased by about 2% in 2015, while "all other" medical costs—including prescription drugs, ambulatory surgical centers, medical care commodities, and other medical services—collectively decreased by 2%. With physician services representing about 40% of all medical costs in the workers compensation system, the 3% decline in that category was the major contributor in overall medical severity costs decrease of 1% in 2015.
Why is it important to understand what factors led to 2015's declined in medical severity claims costs?
Understanding the specific cost drivers in the workers compensation system—and what leads to increases or decreases in costs—is essential for individual states and for all the stakeholders in the national workers compensation system. This data can help guide decisions that ensure that injured workers receive the high-quality care they need in the most effective and efficient manner possible, and help protect the viability of the workers compensation system for future generations of workers.
View the complete report: NCCI Investigating the Drivers of the 2015 Workers Compensation Medical Severity Decline (PDF)
Source: NCCI